Hi All,
Well, obviously I don't post here much anymore, do I?! Honestly, the majority of the DSoD-related stuff I do now is posted to my personal Facebook page, the DSoD Fan Facebook Page, Twitter, Instagram, and my YouTube channel. If you want to keep up with what I'm doing you should totally click all of those links and follow/subscribe/friend/whatever!
Also, to be honest, I'm kinda burned out on Disney. Here are two videos I did recently that explain that in a little more depth:
So, I've decided to take my own advice, and instead of going back to WDW or DL anytime soon, I'm saving up my money and will be spending it on a 5-week European trip which will start in September! I'll do a few days in Iceland, see where Prometheus was filmed, and relax in some geothermal baths. Then I'll then head to Munich, where I'll drink a shit ton of beer, eat huge pretzels, and ogle nude sunbathers at the Englischer Garten (which, for better or worse, was not an opening-day attraction at Epcot's Germany pavilion). Then I'll take the train to Austria, and then over to Switzerland, where I'll hike the Alps and eat nothing but cheese, and where I'll probably get really constipated. Then I'm joining up with famed Bamboo Forest in-house Editor Extraordinaire Hugh Allison, who will join me for the theme park leg of the trip. We'll be hitting Europa Park (which has a whole bunch of rides that are total WDW knock offs), Disneyland Paris (which also has a whole bunch of WDW knock off rides, duh), Futuroscope (which has some awesome EPCOT Center-esque architecture) and Efteling. After that, I'm renting an apartment in Amsterdam and chilling out there for a week!
Rest assured, even though I'm a bit burned out on Disney, I'm totally not burned out on the stuff I loved about Disney, like themed entertainment, drinking booze in cool new places, seeing rock shows, hanging out with attractive women, and generally getting into trouble and not acting my age. I'll still do all of that stuff, and I'll still blog/vlog about it, and a lot of it will probably still happen in various themed environments, but just not necessarily at Walt Disney World or Disneyland.
So, with that in mind, if anyone in Europe has any ideas about what I should do when I'm over there, or wants to meet up for a day and have a beer or two, hit me up via the contact page!
Finally, in some actual DSoD-related news, the book has now been translated into Italian and Russian! If you're counting, that means DSoD can now be read in five different languages, which is pretty damn amazing.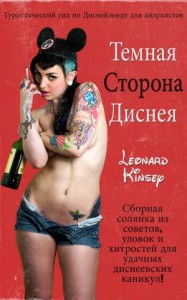 DSoD in Russian at Google Books