Lots going on with the DSoD crew these days! Here's a bit of what we've been up to:
True to my New Year's resolution, Pentakis and I went on a trip that didn't involve anything having to do with Disney, although it certainly did involve the "Dark Side"…. We went to Amsterdam! It was honestly one of the best vacations I've ever been on. We did it in style, flying Business Class and staying in a nice hotel, since Pentakis had never been oversees and I wanted her to have a good first impression of International traveling. We also did a day-trip to Paris via the high-speed rail, and both came to the conclusion that the EPCOT version of the city was nicer than the real thing. In addition, we took a day-trip to the Efteling theme park, as well as a Windmill park outside of the city. And, of course, we saw a sex show at Casa Rosso, smoked lots of (legal) bud, and drank lots of genevers.
Here are some of the videos from the trip (more to come!):

I honestly think that if EPCOT ever opens another World Showcase pavilion, it should be a Dutch one. The Weenie could be a big windmill that's the entrance to a canal boat ride, there could be an hourly clog-making demonstration, and there could be lots of cheese and genever tastings. And you know, there's already an entire Dutch section in it's a small world, so obviously Walt agreed that The Netherlands are awesome. Get on it, Disney!
And in a weird sort of synergistic timing, after coming back from Amsterdam, Bamboo Forest teamed up with Rolly Crump to release signed, limited edition prints of his infamously hilarious Doper Posters!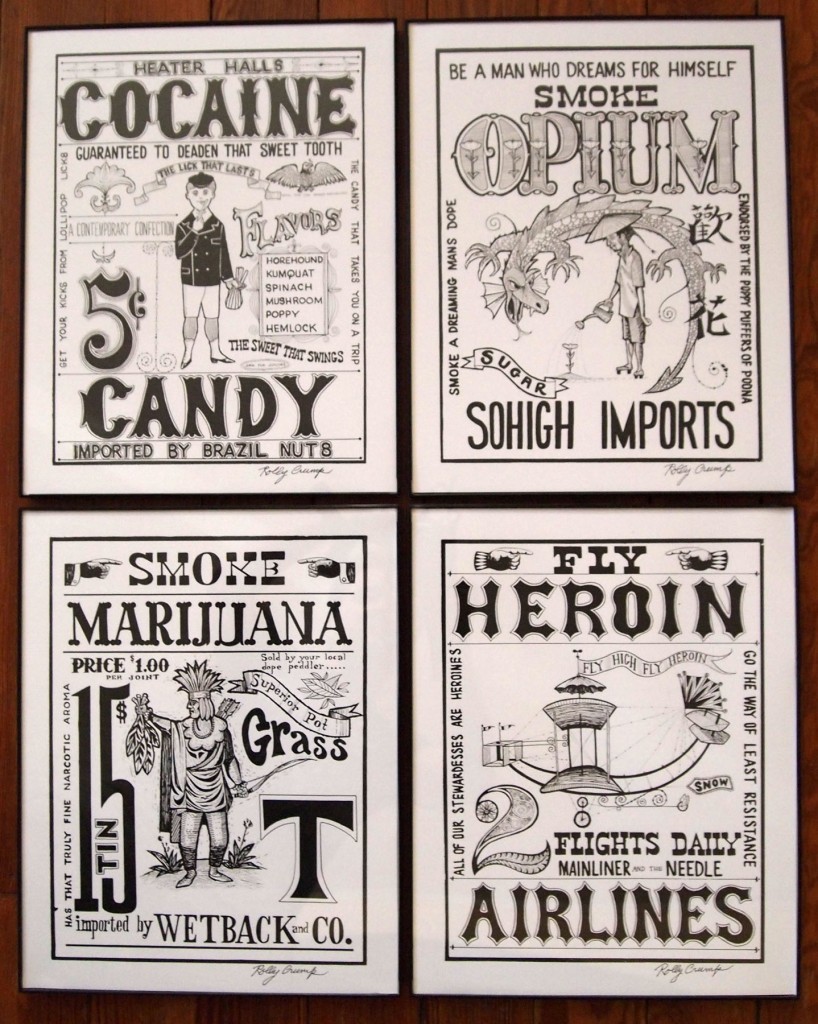 These are 11″x14″ prints of the four original posters, professionally scanned at 4K DPI directly from Rolly's slides, and printed on thick 100# Cover Matte Card paper. Each poster has been hand-signed by Rolly at the bottom. They were displayed in the Disney Studios Library in 1954, and were seen (and enjoyed) by Walt Disney himself. Rolly tells it like this in his autobiography, It's Kind of a Cute Story:
I got a call from the librarian one day and she said, "Walt came in and saw your exhibit today."
"Oh, Jesus," I said. "Did he say anything?"
"Well, he walked down the hallway…"
I started to panic a little bit now. I wasn't sure how Walt would react to those posters!
"…did he see my doper posters?"
"Oh yes!" she said. "In fact, he laughed!"
"He laughed?" I was so happy to hear that.
That just shows you how the Old Man accepted anything. He wasn't critical about anything you did, as long as you were doing your best.
The bottom line was, 5 years later, Walt remembered my exhibit when they were looking for more people to work at WED.
–
Of particular significance is the Marijuana poster, which features the politically incorrect "wetbacks" saying. Rolly has since revised the poster (the revised version is also for sale separately), but we felt this original version was of historical significance, because it is the version Walt saw and enjoyed. However, per Rolly's instructions, this is the only time this version will ever be printed, so it is truly a rare limited edition!
Also available is a print of Rolly's "Oars for Rent" painting, which was purchased by Sharon Disney (Walt's daughter) in the 60s!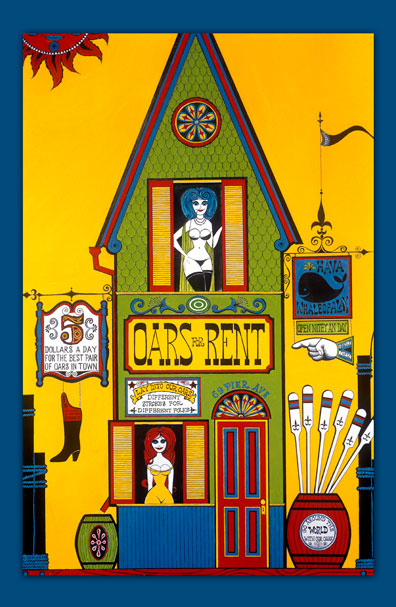 Okay, that's it for now. Plenty more videos coming soon, as well as some awesome announcements about future Bamboo Forest releases. So keep checking back, and be sure to follow me on Facebook and Twitter, which I tend to update a lot more regularly than this blog!
-Leonard