Lots of great DSoD news lately, so let's just get right down to it….
First of all, DSoD is now available in Portuguese! I apologize in advance for helping to make the Brazilian tour groups even more annoying and disruptive than they already are.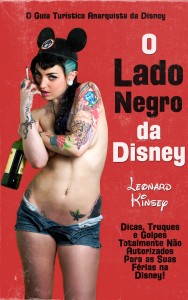 Amazon
In more book news, Habst and the Disney Saboteurs is now free for Kindle Unlimited members! Download it at Amazon, and please leave a review if you enjoyed it!
And speaking of Habst reviews, Addicted To Mickey loved it, saying, "The book kept me hanging on the edge of my pool lounge chair all day." Read the full review at AddictedToMickey.blogspot.com
Now, onto videos! The first and most exciting video is Philip Swift's kickass trailer for his upcoming DSoD documentary. I've only seen a small amount of footage from his recent WDW trip, but it looks like he got into a lot of cool places and did a lot of crazy things, apparently without getting busted and banned for life.

Next up are two of my own videos. The first is from a recent trip to Busch Gardens Williamburg's Food and Wine Festival. Admittedly, it's a rip off of Epcot's F&W, but I think the Busch Gardens one is just as good, if not better.

And, finally, a video from my trip to Southern California with Pentakis, where I sold books with Jeff Heimbuch at Disneyana, met up with Justin Scarred at Trader Sam's, and went to Knott's Berry Farm for the first time since I was a kid!