PAPERBACK NOW AVAILABLE AT OUR STORE AND AT AMAZON!
E-BOOK AVAILABLE AT AMAZON AND SMASHWORDS!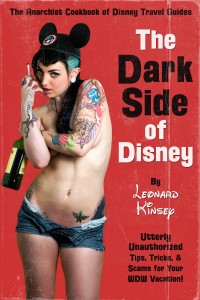 "It's the finest collection of underground WDW stuff ever assembled and is a true bright light in a world gone bland…. Buy this thing and treat the naughty side of your brain to some adventure."
–Hoot Gibson, Mesa Verde Times
"Pack the trunks and leave the kids at Grandma's because THE DARK SIDE is about to make your next Disney vacation the best one ever!"
–Chris Mitchell, author of Cast Member Confidential
"…it's the literary equivalent of 'Jackass.' In that you get the pleasure of reading about how Kinsey and Co. broke the rules without then having to deal with any of the consequences of breaking the rules yourself."
–Jim Hill, JimHillMedia.com
"For the first time in 29 years, I'm actually inclined to visit the Magic Kingdom…. This is the GREATEST travel guide ever."
–William P. Tandy, editor/author of Smile, Hon, You're in Baltimore!
"I found it to be an entertaining read, but it's definitely different from the usual books, even the tell-all books. Those who don't buy into the Disney "magic" may find it most interesting of all, though Cast Members will also recognize the undercurrent of reality in this book, missing from most other guides."
–Kevin Yee, columnist at MiceAge.com
"Kinsey has a great style and he forces you to look at the parks in a different way…. This is a title I would recommend for someone who has seen it all and is looking for something different. It is also a great read for anyone that wants more than just the regular theme park experience. Or someone who thinks Disney is only for kids."
–George Taylor, Imaginerding.com
"A unique perspective of the Magic Kingdom & Walt Disney World, The Dark Side of Disney is an enjoyable read, catered to those who like the view from "the other side". With strong recommendations of what you should and shouldn't do, DSoD is harmless fun any honest Disney Fan would greatly enjoy."
–Brett Bennett, WDWFanBoys Podcast